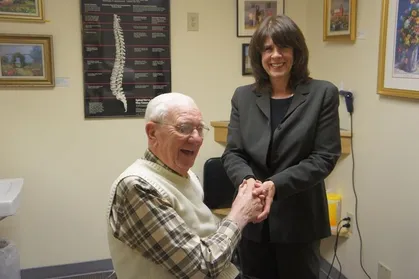 Dr. Deborah Ramsey is a veteran of chiropractic since 1982 with vast experience and training in many specialized areas including the Pierce technique. As of November 6, 2000, Dr. Ramsey opened a new Chiropractic office, Alignment Chiropractic Center in Gloucester Massachusetts, where she will continue providing quality care to all types of patients. As former 18 year owner for her Brookline, MA practice Beacon Chiropractic, Dr. Ramsey helped manage a growing office and treated patients on a daily basis.

In September of 1998, she worked on an alternative health care program for children for approximately 1 year. This new area of expertise is an accredited program for doctors at Children's Hospital in Boston and involves the monitoring of Dr.Ramsey's chiropractic treatments in her office that residents and interns participated in.

Dr. Ramsey well known for her equine chiropractic care, a rapidly growing health-care adjunct for the equine patient. This is where chiropractic care is proving to be invaluable in detecting and treating gait abnormalities and other performance problems in horses. She is certified in the VOM program for animals, after studying with Dr. William Inman in 1997-1999. Dr. Ramsey is also certified in canine and feline methods. She is also certified in Kinesiology Taping for the Equine Patient.

Prior to forming Beacon Chiropractic in September of 1983, Dr. Ramsey worked at Newton Family Chiropractic Center form June 1982 to September of 1983, where she honed her skills as a doctor of chiropractic.

Dr. Ramsey received her Doctor of Chiropractic degree in March of 1982 from Life Chiropractic College. She also holds a Bachelor of Science degree from the University State of New York and an Associates in Science from Holyoke Community College. She is licensed to practice in Massachusetts, South Carolina and the U.S Virgin Islands. Dr. Ramsey is a published author. Additionally, Dr. Ramsey is certified in x-ray study of spinal and skeletal disorders and has served as an examiner for the State Board of Examination.